Picture Books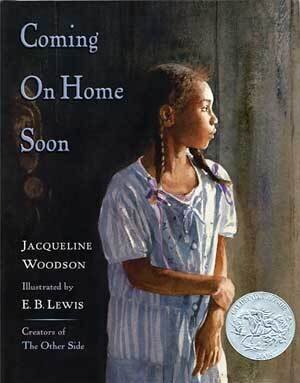 Coming On Home Soon
Illustrated by EB Lewis
It is wartime, and women have to go to work while the men are off fighting. Ada Ruth's mama has a job in Chicago and she must leave Ada Ruth and Grandma behind for a while.
Where it takes place:
Somewhere in the midwest during World War II.
Where I wrote it:
At home in Brooklyn and at my house in Olive, New York.
Why I wrote it:
I had been reading stories about Rosie the Riveter and couldn't find any with African American women in them so I started researching. With the small amount of information I gathered, I began to write this book.
Awards
Caldecott Honor
ALA Notable 2005
Booklist Editor's Choice
Child Magazine Best of 2004
Charlotte Zolotow Honor
State Lists:
Utah Beehive Book Award Master List
Arizona (nominee)
California (nominee)
Georgia (nominee)
Indiana (nominee)
North Carolina (nominee)
Ohio (nominee)
South Carolina (nominee)